According to a recent report from
People
, Katharine and Sam Elliott's daughter, Cleo, is insane and attacked her poor, beautiful mother. I get the feeling this is the beginning of another 'elderly abuse' cases, although Katharine is far from old at 71.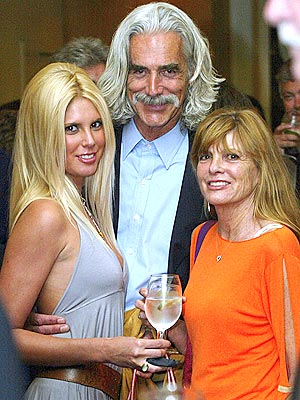 Cleo 'verbally and emotionally' abused Katharine, while she was young and became more violent as she aged. Now I'm not sure that this isn't some kind of Freudian shit going down, considering her father is in possession of the world's finest moustache, but where was the gun slinger to defend her? Every woman needs to be protected against the crazies - there's always at least one.
I have three things to say about this picture:
1.) Cleo is a total slut. Only girls in playboy or under 11 can wear halter tops.
2.) The only thing Sam is missing from his outfit is his bolo tie.
3.) Katharine looks lovely in her 1960s-esque garb. Orange is delightful on her.
Cleo, I'd be more than happy to kick your ass any day of the week,
–
bruiser